Soon after I sold my first beaded Lhasa Apso pin, I received a custom order request for another one! I was asked to create a bead-embroidered likeness of an adorable little dog named Sophie.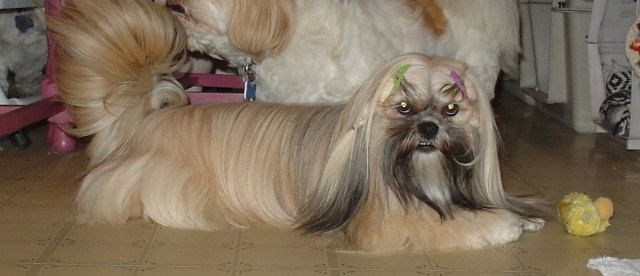 My customer sent me quite a few photos of Sophie so that I could see her beautiful coat from all angles, but I really only worked from two – a profile photo & a close-up of her face. (What a cute face she has:)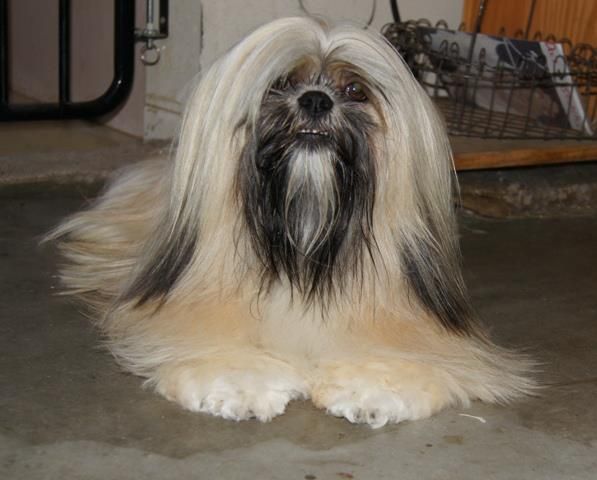 Next, I dug through my bead stash and picked out 10 different colors of mainly  Japanese size 15/o seed beads. The main color which I felt represents Sophie best is a matte silvery-gold – a rather difficult color to find. You can see them in the pic above the pink seed beads. These are actually Czech 13/0 charlottes, which means there is one facet on each bead. The transparent gray beads I used on her body are also charlottes. They really sparkle in the light!
Above, you can see the first layer of bead embroidery I did. I used a combination of Lacy's Stiff Stuff & felt to create the foundation. Then, I stitched on a glass eye for the nose, seed beads for eyes, and a little pink tongue. Working from the pics, I slowly beaded the rest of the dog's face and body. When this layer was complete, I stitched a 2nd layer of beaded fringe onto her face and tail. And here is the finished piece. How do you think she looks?
If you are interested in a custom beaded pet pin, please contact me for more details. Also, check out the new CLEARANCE section in my Etsy shop for beaded items now available at 50% off original price. Once they're gone, they're gone! Thanks for looking!