This week, I finished working on a special custom order. One of the pins I made was a beaded orange & white cat named Butterscotch. He was made by stitching Japanese size 15 seed beads  and 13/o charlottes to felt. I layered the beads to create a furry texture. He measures approx. 5.5cm x 5.5cm. Do you like him? Please check my Facebook page to view more beaded cats & dogs:)
Also this week, I took the time to enter the FedEx Small Business Grant Contest, just for fun! Please stop by to vote for my Etsy shop by clicking on the photo below. You can vote once per day now through Feb. 23.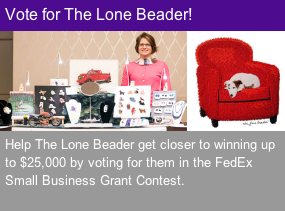 If this link does not work, you can also try to vote on THIS PAGE by clicking on 'Vote for a Business' and searching for The Lone Beader. Please feel free to share the link with others, too! Every vote helps small businesses stand out from the crowd, helping them win one of ten small business grants! Thank you for your consideration!